Do you hate having to keep track of your social media platforms, schedule posts yourself, and manage individually scheduled posts? It takes so much time, doesn't it. Why do social network management tools like HootSuite even exist if they can't solve this simple thing? Or how annoying does it have to come up with new content week after week? Especially when you see your competitors doing different tweaks on the same thing. Imagine if social media auto content recycling were a button click away. Enter the new social media scheduling app: SmarterQueue.
SmarterQueue vs. Hootsuite
When HootSuite announced it would raise its price a while back, I started googling for other options. ]SmarterQueue solves so many of these social media management pain points and does it with ease. Posting to social networks automatically used to be a one-horse race, but not anymore. No longer will you need to struggle hunting for new content for social media platforms like Facebook. See what is performing for others and recycle it with some easy tweaks. Want to post to your followers on Instagram, your Twitter account, and LinkedIn all at once? No problem, it just takes one click to assign tasks to schedule your social media posts. See what's planned and on what social media account. Update content to go to new platforms with a single click. Life is easy again; the tools do what you need. Social media is the growth capital of the world when it comes to your business. You need to focus on it, without your social media management system being your focus.
I used HootSuite to post updates to my followers on multiple social media networks and manage my organization's accounts. So why did I swap to SmarterQueue? It's simple, I've been a social media manager at many marketing organizations for over ten years. I've managed Facebook / Twitter / Instagram marketing accounts, advertising my company on every platform. I have used about every platform managing tool that ever got brought out. I am always seeking to make my job more straightforward – and using the SmarterQueue alternative takes the star prize every time.
Usually, the marketing team and I would have to use many different tools to get the features I needed. But this one has everything there. It's made my life easier, saved me a bunch of time, and my company a bunch of money too – all while making me look better at my job! Ha, such a win!
What Are The Unique Benefits
So what are some of the benefits of using the SmarterQueue platform over something like HootSuite for your organization's social media management:
Smart Automation

. Don't waste time manually deciding the optimal time to publish content and on what social media platform. Spend your time creating content that converts and gets your company sales

Content Recycling

. You already made good content that you know works. Why waste time coming up with something new that might not work? Tweak, recycle and add it to your scheduled posts for your company profile

True Cross-Posting And Optimize For Each of the Social Networks

. SmarterQueue tells you what to do, what hashtags to add, what time to publish, and to which platform. It makes you look better at your job. It guarantees the best possible engagement. It includes all the most relevant hashtags for that particular platform. Don't spend hours going through endless data checklists to optimize post-performance. Click the button, and let the SmartQueue tool do all the (important but) boring stuff. Get back to your best ability, writing converting content for your company.

Discover the Best-Performing Content

. Be lazy and find the best-performing content from others in your niche that's already proven to work. Please don't waste time testing worthless content; search for your key phrases in their giant content library and get on and win.

Analytics For Data-Driven Decisions

. Incredibly, 3:13 am might be the best time to push my organization's content on LinkedIn, and 8:52 pm is the best on Instagram, but I don't care. I want to create some excellent content and click post, and then have the tool pick the optimum time for me. I don't need to manage platforms; I need to reach our potential customers.

Google Drive Integration

. So this is a feature I loved with HootSuite. Don't worry, it's still available with SmarterQueue

The Price

 – Save money on the tool that your company then spend elsewhere, like on your salary!

It still allows you to manage all your favorite social networks

. Facebook, Twitter, LinkedIn, Instagram, Pinterest, etc
Does It Still Have The Features I'm Used To?
So when changing tools you need to consider the functionality you use daily. Can it schedule posts? Yes! Does it support Twitter profiles or a Tiktok business account? Also yes! With SmarterQueue you can easily schedule video content, compose upload photos, post content or re-upload existing content, publish automatically and create scroll-stopping content just like you would in any other tool. It really is the one app to rule them all.
It also supports a social network alert on things like incoming messages. You can be instantly notified when your customers need that final push to secure a sale.
One thing of note is that it doesn't have a mobile application. This may or may not be a problem for you. For me personally, trying to monitor activity on video content across a large content calendar for a social media scheduling app on a tiny screened dark mode mobile application is extremely difficult. I am happy to use a desktop computer. It's already a very complete program. It also saves on getting spammed by push notification 🙂
What Others Think:
But don't just take the word of my blog post for it; here are some other quotes are taken directly from the SmarterQueue website from other customers (and a digital services agency) just like me: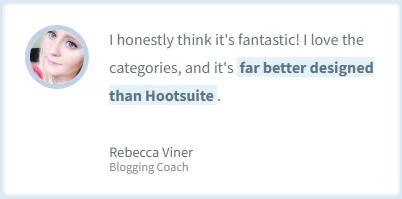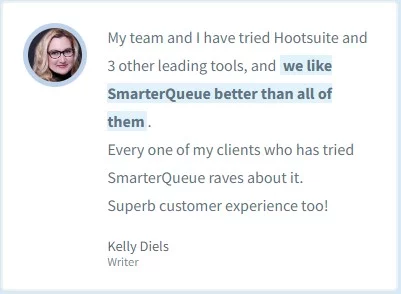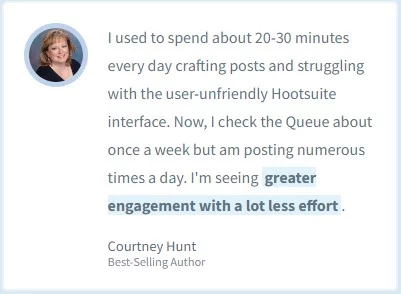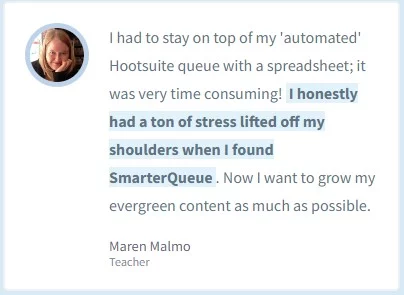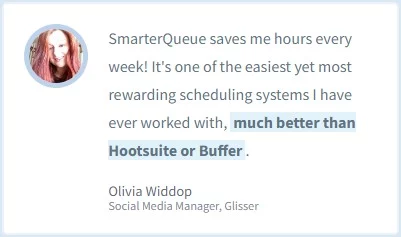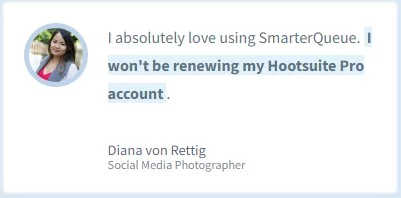 And if that's not enough, check out their scrolling page full of glowing customer reviews, all of whom think the same as me! It is excellent for managing your organization's social networks.
So What's The Catch With SmarterQueue
I have some other great news about SmarterQueue. Are you used to paying $70+ to manage your company's social media accounts? Crazy how much you pay for something you are already the customer for. Well, the great news is that right now, you can get SmarterQueue for half that. I'm not sure how long that is going to last. As I don't work for SmarterQueue, I have spoken to one of their friendly support team. I do know that they intend to raise the price, it makes sense, though; they have better features than all your competition, and it seems silly to charge dramatically less too! The good news is that the lady in support assured me that any accounts on the current price plan would be grandfathered. So it's worth signing up now while it's still at that price!
What makes their offer even more tempting? You can sign up for free for 30 days. No credit card is needed, and no noose around your neck. If it doesn't work, walk away without issue. Although I promise you if you are active in your social channels as much as I am, getting the sales figures that I get through social media, you'd be more confused about how this thing is so cheap and why more people aren't using it. So please make the most of it before more people catch on, and our competition gets more challenging.
But do remember, they do intend to change their price soon. I don't know the actual date, as again I'm not employed by them. I am a big lover of their product, but the support team has said it's coming. So I recommend you get grandfathered. Please make the most of the 30-day trial (as it will lock in the lower price). You don't even need to enter any credit card details. And you could be on the way to making your boss (or your own business) stack loads more cash, all while having to do less but producing more.
So assuming you and your business/team want to dominate with your social media accounts like me. Sign up for the free trial here and contact me at the link above once you've had a go and let me know how awesome you found it to use! I'll be blown away if anyone doesn't see it just as awesomely helpful as I've found it.
But if you and your business/team don't want to give SmarterQueue a try, feel free to keep on using crappier tools like the HootSuite dashboard, where you'll continue to:
Struggle day to day to make a profit

Work too hard for too few customers

Lose the grandfathered lowered rate

Keep getting what you've always got

Struggle to figure out how to handle your posts

Watch other companies dominate on social networks

Paying through the nose for ads to create traffic for your business/team
But remember, it doesn't have to be this way, there is a better way, and you are only a few clicks away. And again it's free for 30 days by following this link